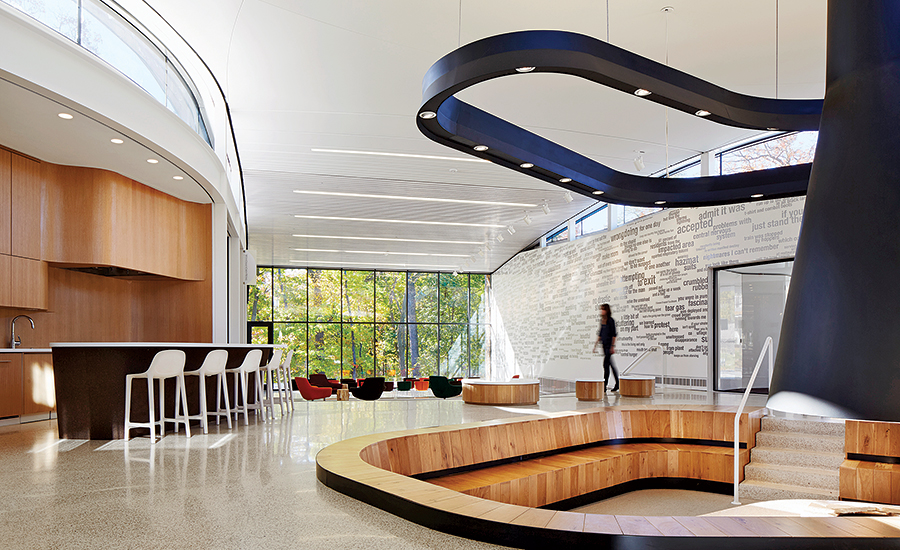 Niswishkoden akiing omaa ayaayang: Ojibweg, Odawag gaye Boodawewaadomiig. Anishinaabemowag. Giikanaamozo Gabegiikendaasogamigong ate bangii ishgoniganing gaa ishkonigaadeg wi apii Majibineshiwish miinawaa wiiji-anishinaabeg bi endaawaad.
We gather on the land of the Three Fires Confederacy: the Ojibwe, the Odawa and the Potawatomi. They speak Anishinaabemowin. Kalamazoo* College itself is located on a part of the reservation established for Match-e-be-nash-she-wish and his band of Potawatomi. *This term means to surround with smoke and is/ reflects the way mist would rise off the river in the area. Another term sometimes used is gaziigamize, the term for boiling sap.
---
Support from the Arcus Center
The Arcus Center is proud to offer various ways our community can engage with the Center's work and various support opportunities for projects that relate to Social Justice. Everyone is strongly encouraged to use the Social Justice Rubric below to assess whether their support asks are aligned with the ACSJL's understanding of social justice projects and programs before filling out the ACSJL Support Form.
EVERYONE is welcome to:
Attend events and trainings hosted by the ACSJL! Check out our events calendar to find out about upcoming ACSJL events. For other events visit our past events page.
Read the latest posts on Praxis Center, the ACSJL's online resource center for scholars, activists, and artists.
Host meetings, community events, or hang out at the ACSJL. Our building is open to the public and can be used free of charge for social justice related work! Please reference our social justice rubric below to evaluate whether your project and needs align with our mission. Use the ACSJL Building Reservation Form to request use of the space.
Request a facilitation of one or more of the ACSJL's offered workshops for your organization. You can learn more about the workshops we offer at our ACSJL Workshops Webpage.
In addition, Kalamazoo College Students, Staff, and Faculty can:
Apply for our various Grant Opportunities for Staff and faculty members to pursue leadership and professional development opportunities related to social justice on and off campus, including SIP funding and much more.
Review our Social Justice Rubric and fill out our ACSJL Support Form to request financial and/or logistical assistance from the ACSJL in helping your social justice ideas come to life!
Get support for innovative and interdisciplinary academic initiatives that infuse social justice into your classroom curriculum. Contact acsjl@kzoo.edu and/or fill out our ACSJL Support Form to get the process started.
And Greater Kalamazoo Community Members are invited to:
Apply for the Regional Fellowship opportunity offered each year (currently on hiatus until our new Executive Director has been selected) where the ACSJL offers funding and support to local social justice leaders looking to implement a project in their organization or community. For more information about the fellowship, visit the Regional Fellowship page.
Fill out our ACSJL Support Form to request financial and/or logistical support for a social justice program or project.
---

IS YOUR PROJECT ROOTED IN SOCIAL JUSTICE?
DOES YOUR PROJECT WORK TO DISMANTLE OPPRESSION?
Does it create disruption to existing system/ institutions of oppression?
Does it name the historical impacts of oppression?
Does it directly address and attempt to reverse exploitation, marginalization, powerlessness, cultural dominance, and/or violence?
Does it create a space to reimagine and redistribute power?
DOES YOUR PROJECT CENTER PEOPLE MOST AFFECTED BY OPPRESSION?
How does it work to ensure that historically oppressed people share power equally?
How does it center the experiences of Black, Indigenous, People of Color, people with disabilities, people experiencing multi-generational poverty, etc…
DOES YOUR PROJECT RECOGNIZE, INVITE, AND VALUE THE CONTRIBUTIONS OF IMPACTED GROUPS?
How are you getting input from those most impacted?
How are you getting feedback from those most impacted?
How are the people most affected by the issue you are trying to address a part of decision-making?
ARE YOU PLANNING A PROGRAM? IF SO?
How you asked your audience what they need to fully participate?
Is the timing, space, platform, and format accessible for the people you want to reach?
Is the planning team representative of those most affected?
How are the impacted people of your local community a part of creating shared vision, values, and goals?
IS YOUR PROJECT BOLD IN IMAGINING A NEW WAY OF BEING?
How are you being bold in your proposal?
How are you inspiring others to think in new ways and challenge the status quo?
If you are building a new system, does it ensure that identities are not an indicator of power?
This Social Justice Rubric was developed in partnership with Freedom Lifted and The Arcus Center for Social Justice Leadership