Upcoming Events: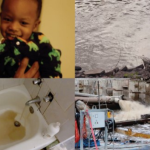 Whose Water? 
The People's Movement for Safe, Affordable Water and Sanitation in the United States.
A film by Kate Levy
Across the United States, nearly 2.2 million people lack safe or affordable water in their homes. Another 1.7 million lack proper sanitation systems. Whose Water?: The People's Movement for Safe, Affordable Water and Sanitation in the United States travels to five drastically different regions of the country that are facing the impacts of this troubling trend–Lowndes County, Alabama; Flint, Detroit, and Highland Park, Michigan; Philadelphia; Navajo Nation; Martin County, Kentucky and Des Moines, Iowa. Through the stories of communities fighting for safe, affordable water and sanitation, the film examines the industrial and governmental systems that prevent so many people from accessing this basic necessity of life and offers concrete solutions to address this unprecedented human rights crisis.
Please join us at the Arcus Center on October 13th, 6:00-8:30 pm for a film screening of the documentary and a discussion about water issues in Detroit.
This event is free and open to the public, but registration is required for dinner. Please use link below to register for free food.
---
Accessibility and Childcare for Events

All events are free and open to the public unless otherwise noted.
Language
Programs are offered in English. Participants are encouraged to contact us at least three days in advance of the event if they need interpretation and we will do our best to provide accommodations.
Accessibility
Our building is wheelchair accessible and equipped with six gender-neutral restrooms, two of which are wheelchair accessible. The Monroe St. entrance is recommended for participants with mobility challenges.
Childcare
At this time we are unable to provide childcare during our events. However, children are always welcome at the Arcus Center and we keep children's toys and games in stock for use during our programming. We want parents to feel comfortable engaging with their families while participating in our events.