Upcoming Events: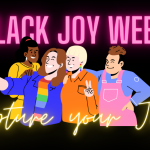 Capture your joy…
This week is about JOY. Capture your joy at our 360 photo booth for music, snacks, and fun!
This event is co-sponsored by the Arcus Center for Social Justice Leadership. Please visit the Black Joy Week page for more events throughout the week.
---
Accessibility and Childcare for Events

All events are free and open to the public unless otherwise noted.
Language
Programs are offered in English. Participants are encouraged to contact us at least three days in advance of the event if they need interpretation and we will do our best to provide accommodations.
Accessibility
Our building is wheelchair accessible and equipped with six gender-neutral restrooms, two of which are wheelchair accessible. The Monroe St. entrance is recommended for participants with mobility challenges.
Childcare
At this time we are unable to provide childcare during our events. However, children are always welcome at the Arcus Center and we keep children's toys and games in stock for use during our programming. We want parents to feel comfortable engaging with their families while participating in our events.