Interim Managing Director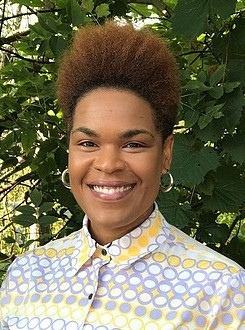 Dr. Kenlana Ferguson (she/her/hers) is the Interim Managing Director of the Arcus Center for Social Justice Leadership. In this role she will oversee Arcus operations and provide support for the center's professional staff.

Dr. Kenlana Ferguson is also the director of Kalamazoo College Counseling Center. She holds a Ph.D. in counseling psychology from Western Michigan University. For the past 17 years she has worked as a clinician in the criminal justice system, private practice, community mental health, and college counseling. Throughout her time at Kalamazoo College, Dr. Ferguson has championed efforts to make student mental wellness a campus wide priority. She led the College through the process of becoming a JED Campus school and continues to help departments implement strategies, programs, and practices that support student mental wellness. Dr. Ferguson is particularly passionate about BIPOC mental health and helping the College better meet the mental health needs of BIPOC students. Along with ensuring students receive culturally responsive mental health care, she regularly facilitates outreach programs that center the experiences of BIPOC students and has supported faculty, staff, and department in using the Equity in Mental Health Framework to meet the mental health needs of BIPOC students at K. She has facilitated numerous trainings for faculty, staff, and administers on implicit bias, microaggressions, supporting students of color, and building relationships across differences.
Outside of Kalamazoo College, Dr. Ferguson teaches courses on diversity and ethics and substance use theory in the Specialty Program in Alcohol and Drug Abuse (SPADA) program at Western Michigan University. She also facilitates trainings on cultural humility, understanding bias and human behavior, microaggressions, and engaging across differences for educational institutions, businesses, county government offices, and healthcare providers. Dr. Ferguson recently helped establish the Kalamazoo Black & Brown Therapy Collective, an initiative that aims help individuals heal from racial trauma and eliminate mental health barriers by connecting BIPOC individuals with BIPOC mental health clinicians and providing funding for therapy.
Associate Executive Director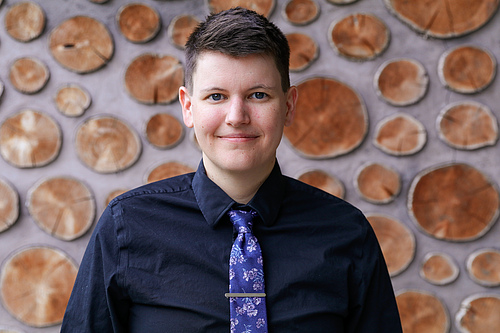 Jax Lee Gardner (she/her/hers) is the associate executive director of the Arcus Center for Social Justice Leadership. Jax joined the Center in February of 2016 after five years with Kalamazoo College in both the History and Social Science Departments. Jax has spent the last two decades working in and around issues of social justice personally and professionally.

Originally from Washington, D.C., Jax's social justice trajectory has closely followed issues of health and economic justice for women and children (particularly as they intersect with queerness and racial justice). Currently, she facilitates with Allies for Change, Justice Leaders Collaborative, and the Truth and Titus Collective. Additionally, she serves on the Board of ERACCE. In addition, Jax is the founder of the St. Luke's Diaper Bank which helps meet diaper needs in Kalamazoo.

Jax holds an M.A. in English literature from Western Michigan University, a B.A. from the College of Charleston and is a professional birth doula. She previously held an ACSJL staff fellowship (2015). In her free time, Jax relishes spending quality time with her partner and children.

Center Manager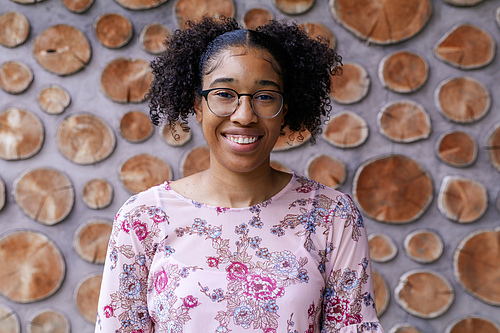 Rhiki Swinton (she/her/hers) is the center manager of the Arcus Center for Social Justice Leadership. With her background in psychology and higher education administration, Rhiki plans to challenge the way she, and the people who interact with her, view the higher education system in the hopes of creating a more inclusive and equitable education structure for all. Rhiki also plans to continue broadening her knowledge about student development theories and practices in order to be an effective student advocate and ally.

Rhiki has previously worked closely with students through her prior positions as a graduate assistant in the Student Activities and Involvement Office at Central Michigan University and an admission counselor for the Chicago Territory at Albion College. She is super excited to work in the Arcus Center and learn how to best serve Kalamazoo College students and the Kalamazoo community.

Rhiki earned her M.A. from Central Michigan University in higher education administration and a B.A. in psychology from Albion College. Additionally, Rhiki is really passionate about educational equity and race relations. She is also intentional about working to unlearn unjust and problematic behaviors, language, and practices. When she isn't working, you can find Rhiki engaging in physical activities, shopping at Target, cramming food into her face and being a goofball.
Communications Manager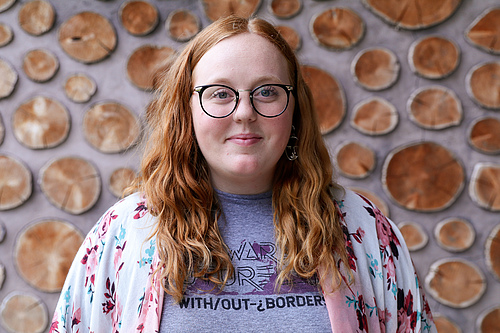 Nichole Real (they/them/theirs) is the communications manager at the Arcus Center for Social Justice Leadership. Nichole moved to Kalamazoo from their hometown of Minneapolis, Minnesota in 2013 and since then has put down deep roots and found their home here in the Kalamazoo community. They're excited and grateful to work and learn among their community alongside the rest of the Arcus staff.

Nichole earned their B.A. in sociology and gender & women's studies from Western Michigan University in 2017 and is currently planning to use the skills the've gained through this work and continue their studies in higher education to become a therapist. Nichole is particularly passionate about anti-racism, disability justice, fat liberation, LGBTQIA rights, and helping others develop a strong social justice analysis. When they aren't working, you can find Nichole laughing with their people, talking to their plants, taking Buzzfeed quizzes, reading a book, or listening to podcasts.

Student Leadership Coordinator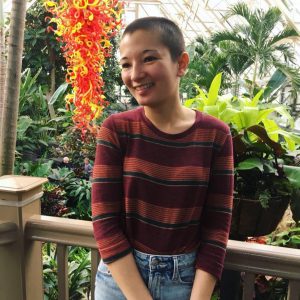 Cat March (they/them/theirs) earned their Bachelor's degree from Kenyon College and their Master's degree from Western Michigan University (as of April, 2021). At Kenyon, they double majored in Gender Studies and English (with a Creative Writing concentration). This path through higher education mirrored their love of storytelling as a method for pursuing social justice. Their passion for in learning experiences outside the classroom, including involvement with Kenyon's Office of Diversity, Equity, and Inclusion, helped them realize their affinity for engagement with higher education beyond the classroom. 

Cat's desire to foster social justice leadership opportunities for students in higher education led them to Western's Higher Education, Student Affairs (HESA) program. At Western, they worked with the Office of Student Engagement in Registered Student Organization Development. There, they assisted student leaders involved in clubs, extracurricular activities, and affinity groups. They eventually conducted a summer field experience with the Arcus Center and fell in love with the place! Cat is so excited to be here, and cannot wait to meet more social justice leaders at Kalamazoo College. This is their dream job!

In their down time, Cat likes to write, read, draw, play video games (especially Animal Crossing), play Dungeons and Dragons (and other tabletop games), and enjoy nature!
Executive Assistant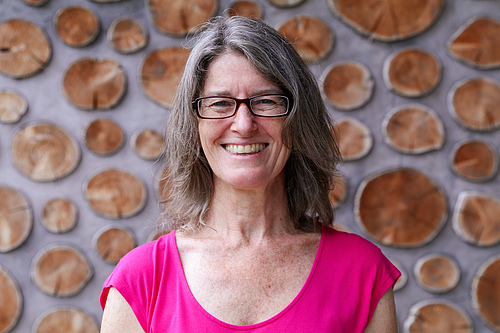 Julie Marron-Parker (she/her/hers) is the executive assistant at the Arcus Center for Social Justice Leadership. She joined the Center in 2017. She believes that as we age and grow so does the work that we choose to do; as evidenced by the winding career path that led her to the Arcus Center.

Julie is a long-time resident of Kalamazoo who cares deeply for her community and its members. She believes that each of us has a unique part to play in the push for a more just and liberated community and world. She has found her place at the Arcus Center and puts her heart and soul into the work. She particularly enjoys building relationships with people in the community and bringing radical art to the center.

She received her B.S. from Western Michigan University in 1986 and her massage therapy certificate in 2001. When not at work, Julie enjoys being a mom and "Mimi" to her grandchild, creating art, making jams and road trips with her youngest daughter.
Retired Academic Director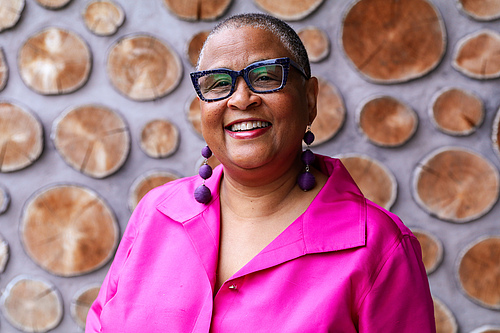 Dr. Lisa Brock (she/her/hers) is the retired academic director of the Arcus Center for Social Justice Leadership. Her articles on Africa and the African Diaspora have appeared in dozens of academic journals and as book chapters. Her text, Between Race and Empire: African-Americans and Cubans Before the Cuban Revolution, was co-edited with the University of Havana Professor Digna Castaneda. Her latest academic works include guest editing an edition of Souls: A Critical Journal of Black Politics, Culture, and Society, on Black Cuban Revolutionaries Today, and a book project on Black Life and Resistance in the late 18th-early 19th century Charleston and Havana. Lisa is a board member and faculty in residence of the Center for Art, Design and Social Research, based in Boston and Helsinki.

Lisa has been an activist all her life, from fighting for girl's rights and black rights in her native Cincinnati, Ohio area and against police violence and judicial misconduct in Washington D.C, to becoming a leader in the anti-apartheid movement in Chicago, Illinois. She lived in Mozambique as a Fulbright Scholar in the 1980s and successfully merged her academic interest with Southern African social justice struggles. In the mid-2000s, she worked with others to found the Chicago Anti-Apartheid Movement Collection (archives) at Columbia College Chicago. She herself successfully led study abroad programs in South Africa and Cuba and worked with student activists at Kalamazoo College to create a Critical Ethnic Studies department and an Intercultural Center for marginalized students. The ACSJL hosts important local and global leaders and convenings and continues to model the work necessary to create more just and inclusive liberal arts education and campus cultures.

Lisa has maintained strong ties with many of her former students and continues peer-to-peer and cross-generational mentoring. As a historian and activist, Lisa is an internationalist who views history as a way to enter contemporary discussions about race, class, gender, and global oppression, and has for over thirty years been an active public intellectual. Lisa attended Oberlin College and earned her B.A. from Howard University. She earned her Ph.D. in African history from Northwestern University.