Full-time Staff
Interim Managing Director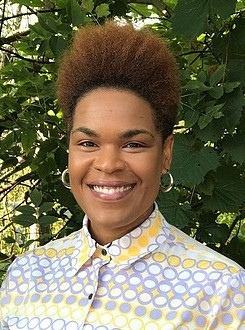 Dr. Kenlana Ferguson (she/her/hers) is the Interim Managing Director of the Arcus Center for Social Justice Leadership. In this role she will oversee Arcus operations and provide support for the center's professional staff.

Dr. Kenlana Ferguson is also the director of Kalamazoo College Counseling Center. She holds a Ph.D. in counseling psychology from Western Michigan University. For the past 17 years, she has worked as a clinician in the criminal justice system, private practice, community mental health, and college counseling. Throughout her time at Kalamazoo College, Dr. Ferguson has championed efforts to make student mental wellness a campus-wide priority. She led the College through the process of becoming a JED Campus school and continues to help departments implement strategies, programs, and practices that support student mental wellness. Dr. Ferguson is particularly passionate about BIPOC mental health and helping the College better meet the mental health needs of BIPOC students. Along with ensuring students receive culturally responsive mental health care, she regularly facilitates outreach programs that center the experiences of BIPOC students and has supported faculty, staff, and department in using the Equity in Mental Health Framework to meet the mental health needs of BIPOC students at K. She has facilitated numerous trainings for faculty, staff, and administers on implicit bias, microaggressions, supporting students of color, and building relationships across differences.
Outside of Kalamazoo College, Dr. Ferguson teaches courses on diversity and ethics and substance use theory in the Specialty Program in Alcohol and Drug Abuse (SPADA) program at Western Michigan University. She also facilitates trainings on cultural humility, understanding bias and human behavior, microaggressions, and engaging across differences for educational institutions, businesses, county government offices, and healthcare providers. Dr. Ferguson recently helped establish the Kalamazoo Black & Brown Therapy Collective, an initiative that aims to help individuals heal from racial trauma and eliminate mental health barriers by connecting BIPOC individuals with BIPOC mental health clinicians and providing funding for therapy.
---
Center Manager & Co-Interim Executive Director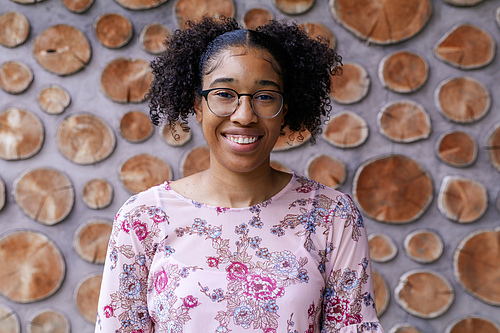 Rhiki Swinton (she/her/hers) is the center manager of the Arcus Center for Social Justice Leadership. With her background in psychology and higher education administration, Rhiki plans to challenge the way she, and the people who interact with her, view the higher education system in the hopes of creating a more inclusive and equitable education structure for all. Rhiki also plans to continue broadening her knowledge about student development theories and practices in order to be an effective student advocate and ally.

Rhiki has previously worked closely with students through her prior positions as a graduate assistant in the Student Activities and Involvement Office at Central Michigan University and an admission counselor for the Chicago Territory at Albion College. She is super excited to work in the Arcus Center and learn how to best serve Kalamazoo College students and the Kalamazoo community.

Rhiki earned her M.A. from Central Michigan University in higher education administration and a B.A. in psychology from Albion College. Additionally, Rhiki is really passionate about educational equity and race relations. She is also intentional about working to unlearn unjust and problematic behaviors, language, and practices. When she isn't working, you can find Rhiki engaging in physical activities, shopping at Target, cramming food into her face and being a goofball.
---
Communications Manager & Co-Interim Executive Director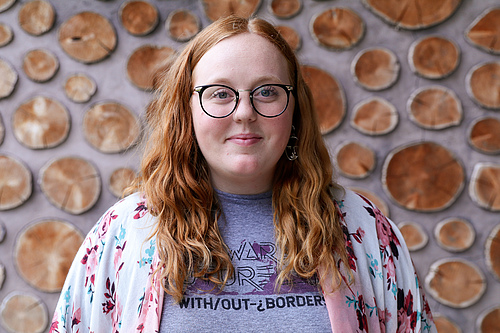 Nichole Real (they/them/theirs) is the Communications Manager at the Arcus Center for Social Justice Leadership. Nichole moved to Kalamazoo from their hometown of Minneapolis, Minnesota in 2013 and for 9 years put down deep roots and found their home here in the Kalamazoo community. In 2018, Nichole was first hired to the Arcus Center to be the Student Leadership Coordinator where they worked and learned alongside the ACSJL student staff until they took on the Communications role last Summer. This past June, Nichole relocated back to Minneapolis with their wife and pets to be closer to family. They currently do their ACSJL work remotely from their new home.

Nichole earned their B.A. in sociology and gender & women's studies from Western Michigan University in 2017 and is now currently in grad school learning how to use the skills they've gained through this work to become a licensed therapist. Nichole is particularly passionate about white solidarity in anti-racism, disability justice, fat liberation, queerness, and helping others develop a strong social justice analysis. When they aren't working, you can find Nichole laughing with their people, over-analyzing any tv show or movie they watch, being a kiki to their 4 nieces and nephews, taking Buzzfeed quizzes, or reading a good book.

---
Executive Assistant & Co-Interim Executive Director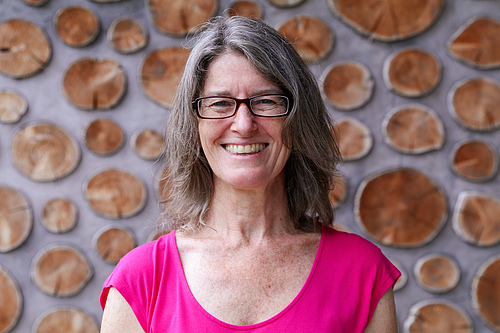 Julie Marron-Parker (she/her/hers) is the executive assistant at the Arcus Center for Social Justice Leadership. She joined the Center in 2017. She believes that as we age and grow so does the work that we choose to do; as evidenced by the winding career path that led her to the Arcus Center.

Julie is a long-time resident of Kalamazoo who cares deeply for her community and its members. She believes that each of us has a unique part to play in the push for a more just and liberated community and world. She has found her place at the Arcus Center and puts her heart and soul into the work. She particularly enjoys building relationships with people in the community and bringing radical art to the center.

She received her B.S. from Western Michigan University in 1986 and her massage therapy certificate in 2001. When not at work, Julie enjoys being a mom and "Mimi" to her grandchild, creating art, making jams and road trips with her youngest daughter.
---
Student Leadership Coordinator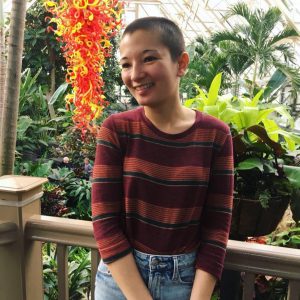 Cat March (they/them/theirs) earned their Bachelor's degree from Kenyon College and their Master's degree from Western Michigan University (as of April, 2021). At Kenyon, they double-majored in Gender Studies and English (with a Creative Writing concentration). This path through higher education mirrored their love of storytelling as a method for pursuing social justice. Their passion for learning experiences outside the classroom, including involvement with Kenyon's Office of Diversity, Equity, and Inclusion, helped them realize their affinity for engagement with higher education beyond the classroom.
Cat's desire to foster social justice leadership opportunities for students in higher education led them to Western's Higher Education, Student Affairs (HESA) program. At Western, they worked with the Office of Student Engagement in Registered Student Organization Development. There, they assisted student leaders involved in clubs, extracurricular activities, and affinity groups. They eventually conducted a summer field experience with the Arcus Center and fell in love with the place! Cat is so excited to be here, and cannot wait to meet more social justice leaders at Kalamazoo College. This is their dream job!
In their downtime, Cat likes to write, read, draw, play video games (especially Animal Crossing), play Dungeons and Dragons (and other tabletop games), and enjoy nature!
---
Student Staff
Student staff members are deeply involved in the work of the ACSJL, both in the creation and implementation of programs. They are responsible for a wide variety of duties, which require creativity, accountability, and leadership, and will be exposed to many leadership development opportunities.
Nicholas Davis- Sipaque
Nicholas Davis-Sipaque (They/Them/Theirs) is a Student Social Justice Associate at the Arcus Center. They are a Senior at Kalamazoo College majoring in Anthropology and Sociology and Critical Ethnic Studies. Born and raised in Los Angeles County, Nicholas has become a passionate student of food and farming justice, Central American diaspora studies, and queer studies. During their time at K, Nicholas was employed as a Civic Engagement Scholar for El Sol Elementary School,
assisted in a racial climate study for the college, participated with Fundación Ixcanul and La Casa De Producción in Guatemala City, earned the Davis Projects for Peace Grant, and has worked towards keeping close relationships with grassroots organizers and organizations in Kalamazoo and Los Angeles. Also, Nicholas started the student org Puchica Vos!, a Central American student org, with other CentAm students at K College, and is an active member of student orgs: Radical Love, QTPOCC (Queer and/or Trans People Of Color), and Film Club. You can find them usually crocheting, running late, and cooking a big pot of their favorite foods! If you're hungry, you should ask them for food!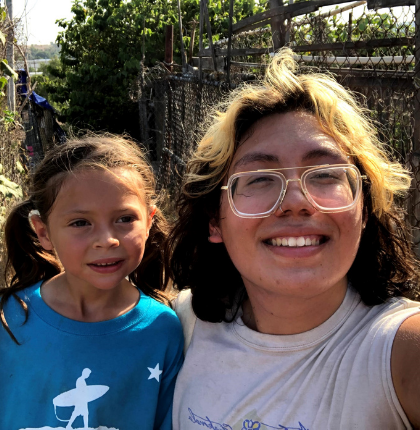 ---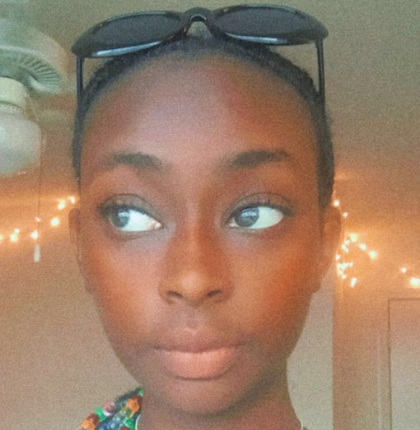 Ashani Jewell (She/Her/Hers) is a Social Justice Leadership Associate at the ACSJL. She is a Junior, double majoring in Economics and Computer Science. Ashani was born and raised in Southfield, Michigan with her younger sister and her dog Kobe. For fun, Ashani spends time hanging with friends, eating, and falling asleep to movies. She is also quite the music and shopping. If you want to have an in-depth conversation about your birth chart, talk to her!
Ashani Jewell
---
Aaron Johnson
Aaron Johnson (He/Him/His) is a Social Justice Leader Associate at the ACSJL. He is a Senior majoring in Anthropology and Sociology and English. Hailing from Minneapolis, Minnesota, Aaron has had the pleasure of doing work for Just Food Collective, creating experiential curriculum with the Center for Civic Engagement, learning from communications and outreach internships, and working for the ACSJL!
He is involved a variety of Center initiatives, such as social media and communications, programming and curriculum building, and the Radical Futures Now podcast. He is passionate about racial justice, food justice, queer studies, and just urban design. In his free time, Aaron loves spending time with friends, cooking, listening to music, creating music videos in his head, and watching The Real Housewives.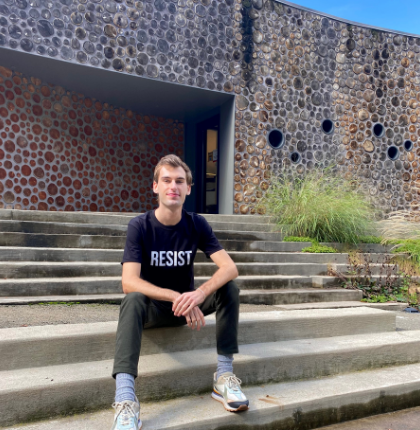 ---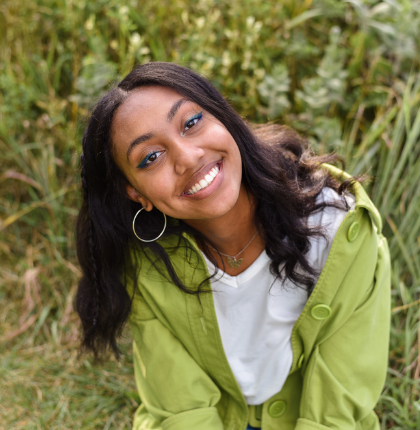 Jade Milton (they/them/theirs) is a Social Justice Leadership Associate at the ACSJL. They are a Freshman at Kalamazoo College, and this is their first year working at Arcus! Jade was born and raised in the Metro-Detroit area, alongside their one older sibling, Dylan. In Jade's free time they love to dance, meditate, spend time in nature, and play Mario kart. Jade's passions lie in spirituality, environmental justice, human rights, and amplifying voices and experiences of marginalized groups. They hope to make an impact on the community of Kalamazoo college, facilitating higher knowledge of social justice issues.
Jade Milton
---
Jonathan Townley
Jonathan Townley (he/him/his) is a Senior English major and Music minor, from East Lansing, MI. You'll most likely find him writing a song, rehearsing for the next Monkapult improv performance, or consulting at the K College Writing center. He brings intentionality, care, and a critical eye for radical change to each of the spaces he runs in. If you have a big idea for the campus, share it with Jonathan. He's working on projects around the K archives, disrupting white predominately white performance spaces, and food justice-centered community building. He also loves hearing music suggestions.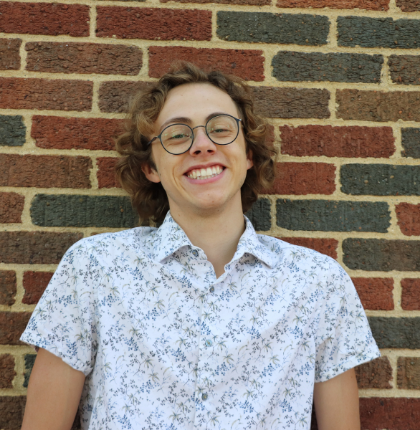 ---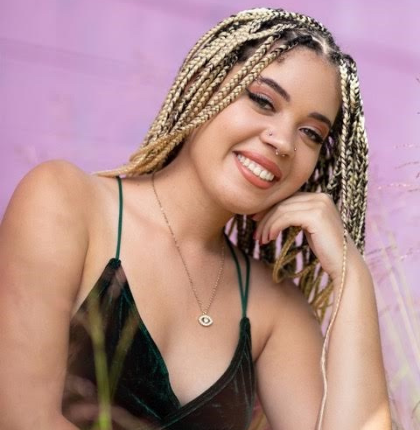 Ellie Pollard (she/her/hers) is a Social Justice Leadership Associate at the ACSJL. She Is a freshman at K, hoping to double major in political science and environmental studies, with a minor in Arabic. Ellie is born and raised in Kalamazoo, so if you want to know some cool places to check out in town, she's your girl! In Ellie's free time she loves to sing, paint, take walks outside, and be silly with her friends. She's a part of Cirque du K on campus and is looking forward to learning more at K and working with the Arcus Center to help bring awareness to social justice issues in her community.
Ellie Pollard
---
Sabina Fall
Sabina Fall (She/They) is a Social Justice Leadership Associate at the ACSJL. She is a senior at Kalamazoo College and is majoring in Anthropology and Sociology and minoring in Studio Art. Sabina was born and raised in Ann Arbor, Michigan. This is their third year working at Arcus, and they are focusing on work for the Radical Futures Now podcast and Youth Programming.
Sabina is passionate about environmental justice, food and farming justice, Indigenous studies, community care, and deschooling society, they are always eager to broaden their limits of knowledge and hope to continue their work in social justice after graduating, through modes of agriculture and art. Sabina enjoys time with the people she loves, being outside, reading, knitting, and laughing.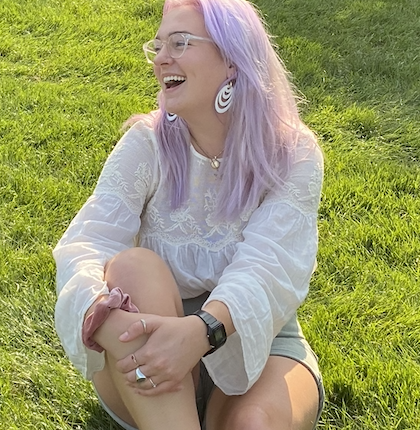 ---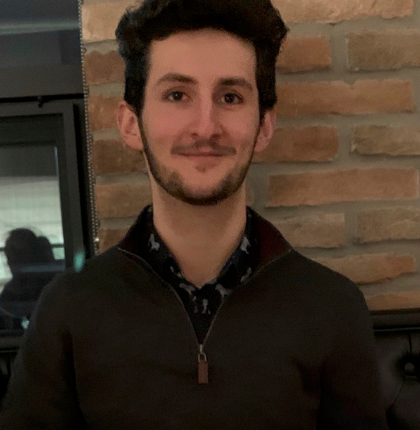 Sam Barczy (he/him) is a junior physics major and mathematics minor from Hungary. He is also very interested in history, but if you talk to him about cooking, growing, or eating food prepare for a long conversation. He will always appreciate a good story about your eating culture or practices and enjoys sharing about any step of food preparation. Sam – together with his partner – raises and enjoys the company of three dogs and can often be seen walking the pack on campus. If you ever see him, feel free to pet the dogs after asking for permission.
Sam Barczy
---
Sam Rodriguez
Sam Rodriguez (they/them/theirs) is a senior at Kalamazoo College working on their degree in Critical Ethnic Studies, Spanish, and Studio Arts. At the beginning of their college career, Sam learned about food systems and was a year-long volunteer for the Club Grub program at Woodward Elementary school. As a Sophomore, they were a part of the experiential learning program design team for the food and farming justice pilot program with Amy New Day.
As a student design team member they were able to envision ways in which students could get credit for their experiences in the community through multimedia reflection type assignments. Sam is also a Davis Peace Grant recipient alum and conducted a green space project to install irrigation systems across nine community gardens in the South Bay of California. As a senior and having spent over a year in their hometown, Hawthorne, California, they are eager to engage with the K-College and Kalamazoo Community. Sam is the lead organizer for the queer art collective Radical Love and QTPOCC (Queer, Trans, People, of Color Coalition).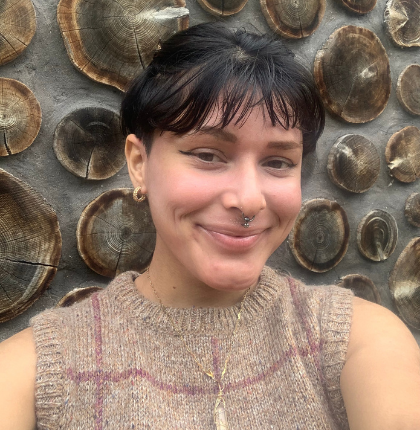 ---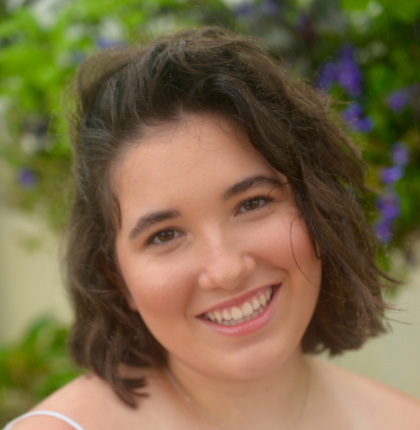 Mica Stillerman-Flores (she/hers) is a Social Justice leadership Associate at ACSJL. She is a Junior and majoring in Critical Ethnic Studies and possibly a Spanish minor. Growing up in Grand Rapids, Mica developed a passion for social justice and music through working with programs like Helen Claytor Center for Girls' Leadership and Girls Rock! Grand Rapids. Mica loves listening to music and is always willing to make a customized playlist for anyone who asks. She loves watching Tim Burton and Studio Ghibli movies with her friends and finding new recipes to try out!
Mica Stillerman-Flores
---
Kaia Thomas
Kaia Thomas (she/her) is a Social Justice Leadership Associate at the ACSJL. She is a junior majoring in Political Science and Psychology. Kaia was raised in Canton, Michigan. In her free time, Kaia loves reading, gardening, cooking, and listening to music. She is passionate about racial justice, anticapitalism, mental health, and environmental justice and sustainability. Kaia wants to continue to learn about the importance of gentleness, accountability, community, and care in social justice work.