Full-time Staff
Executive Director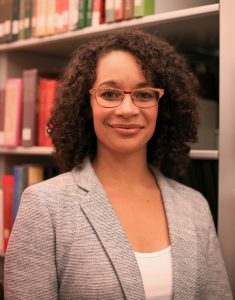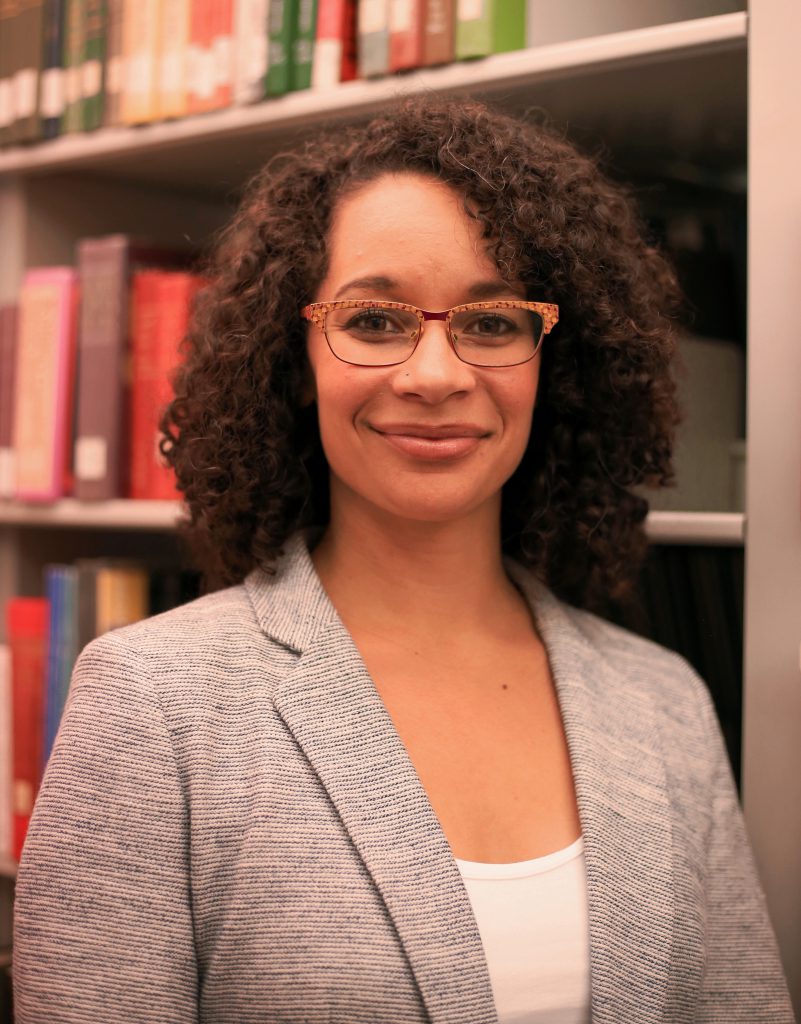 Emily Williams (she/her/hers) has worked with organizations and community stakeholders to further equity and inclusion in more than 20 countries, including a global treaty adopted by the United Nations.
For more than a decade, Emily has worked professionally on local and global levels to create an equitable world by centering those who are most-marginalized. As Senior Program Officer at the Solidarity Center, Emily collaborated with global labor organizations to promote inclusive development, advocate for human rights, and gender equality.
In 2014, she co-founded the Social Justice Initiative at the University of Illinois at Chicago where she built the center from the ground up. She also formed active networks and developed programs combining social justice practice with intellectual inquiry. This programming highlighted the interconnections of race, gender, class, and other systems as a critical foundation for work and action which advances social justice.
She holds a Masters of Art in Women's and Gender Studies from DePaul University and a Bachelor of Arts in Psychology from Beloit College. She has worked in diverse settings to promote mental health and social well-being. As a volunteer with Girl Talk, Emily designed empowering programs with a trauma-informed approach for girls at the Cook County Juvenile Temporary Detention Center. She also worked as a Case Manager for adults with mental illness and addiction in Milwaukee, WI. This early-career experience proved foundational to Emily's dedication to creating a more socially-just world that is better for everyone.
In her free time, Emily enjoys checking out cool coffee shops, dancing to Chicago House Music and watching international films!
---
Center Manager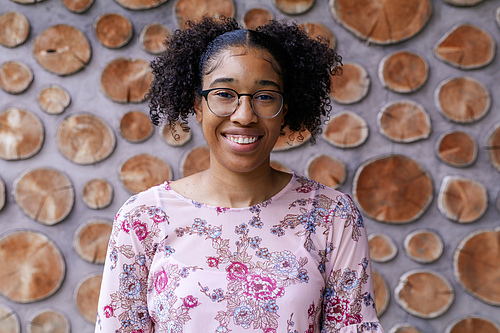 Rhiki Swinton (she/her/hers) is the center manager of the Arcus Center for Social Justice Leadership. With her background in psychology and higher education administration, Rhiki plans to challenge the way she, and the people who interact with her, view the higher education system in the hopes of creating a more inclusive and equitable education structure for all. Rhiki also plans to continue broadening her knowledge about student development theories and practices in order to be an effective student advocate and ally.

Rhiki has previously worked closely with students through her prior positions as a graduate assistant in the Student Activities and Involvement Office at Central Michigan University and an admission counselor for the Chicago Territory at Albion College. She is super excited to work in the Arcus Center and learn how to best serve Kalamazoo College students and the Kalamazoo community.

Rhiki earned her M.A. from Central Michigan University in higher education administration and a B.A. in psychology from Albion College. Additionally, Rhiki is really passionate about educational equity and race relations. She is also intentional about working to unlearn unjust and problematic behaviors, language, and practices. When she isn't working, you can find Rhiki engaging in physical activities, shopping at Target, cramming food into her face and being a goofball.

---
Executive Assistant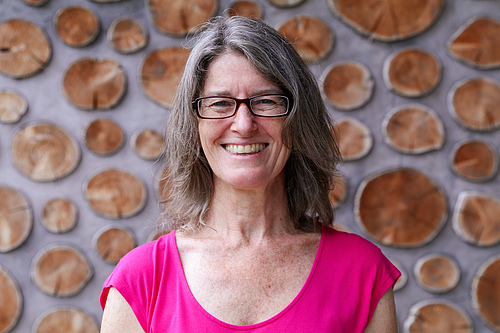 Julie Marron-Parker (she/her/hers) is the executive assistant at the Arcus Center for Social Justice Leadership. She joined the Center in 2017. She believes that as we age and grow so does the work that we choose to do; as evidenced by the winding career path that led her to the Arcus Center.

Julie is a long-time resident of Kalamazoo who cares deeply for her community and its members. She believes that each of us has a unique part to play in the push for a more just and liberated community and world. She has found her place at the Arcus Center and puts her heart and soul into the work. She particularly enjoys building relationships with people in the community and bringing radical art to the center.

She received her B.S. from Western Michigan University in 1986 and her massage therapy certificate in 2001. When not at work, Julie enjoys being a mom and "Mimi" to her grandchild, creating art, making jams and road trips with her youngest daughter.
---
Student Leadership Coordinator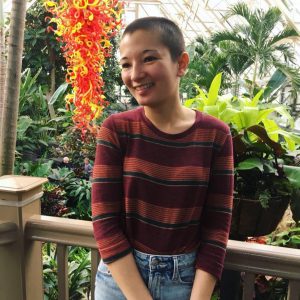 Cat March (they/them/theirs) earned their Bachelor's degree from Kenyon College and their Master's degree from Western Michigan University (as of April, 2021). At Kenyon, they double-majored in Gender Studies and English (with a Creative Writing concentration). This path through higher education mirrored their love of storytelling as a method for pursuing social justice. Their passion for learning experiences outside the classroom, including involvement with Kenyon's Office of Diversity, Equity, and Inclusion, helped them realize their affinity for engagement with higher education beyond the classroom.
Cat's desire to foster social justice leadership opportunities for students in higher education led them to Western's Higher Education, Student Affairs (HESA) program. At Western, they worked with the Office of Student Engagement in Registered Student Organization Development. There, they assisted student leaders involved in clubs, extracurricular activities, and affinity groups. They eventually conducted a summer field experience with the Arcus Center and fell in love with the place! Cat is so excited to be here, and cannot wait to meet more social justice leaders at Kalamazoo College. This is their dream job!
In their downtime, Cat likes to write, read, draw, play video games (especially Animal Crossing), play Dungeons and Dragons (and other tabletop games), and enjoy nature!
---
Student Staff
Student staff members are deeply involved in the work of the ACSJL, both in the creation and implementation of programs. They are responsible for a wide variety of duties, which require creativity, accountability, and leadership, and will be exposed to many leadership development opportunities.
Nicholas Davis- Sipaque
Nicholas Davis-Sipaque (They/Them/Theirs) is a Student Social Justice Associate at the Arcus Center. They are a Senior at Kalamazoo College majoring in Anthropology and Sociology and Critical Ethnic Studies. Born and raised in Los Angeles County, Nicholas has become a passionate student of food and farming justice, Central American diaspora studies, and queer studies. During their time at K, Nicholas was employed as a Civic Engagement Scholar for El Sol Elementary School,
assisted in a racial climate study for the college, participated with Fundación Ixcanul and La Casa De Producción in Guatemala City, earned the Davis Projects for Peace Grant, and has worked towards keeping close relationships with grassroots organizers and organizations in Kalamazoo and Los Angeles. Also, Nicholas started the student org Puchica Vos!, a Central American student org, with other CentAm students at K College, and is an active member of student orgs: Radical Love, QTPOCC (Queer and/or Trans People Of Color), and Film Club. You can find them usually crocheting, running late, and cooking a big pot of their favorite foods! If you're hungry, you should ask them for food!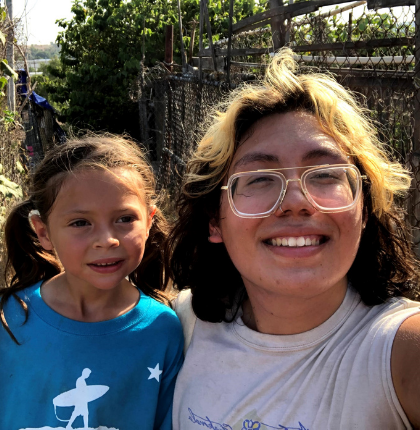 ---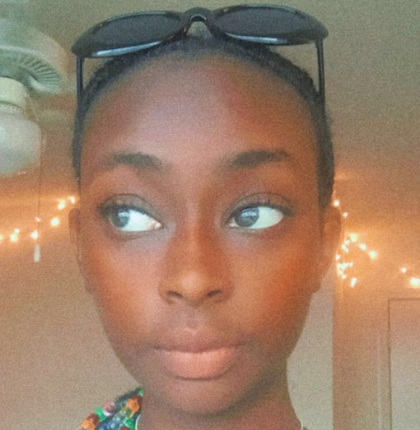 Ashani Jewell (She/Her/Hers) is a Social Justice Leadership Associate at the ACSJL. She is a Junior, double majoring in Economics and Computer Science. Ashani was born and raised in Southfield, Michigan with her younger sister and her dog Kobe. For fun, Ashani spends time hanging with friends, eating, and falling asleep to movies. She is also quite the music and shopping. If you want to have an in-depth conversation about your birth chart, talk to her!
Ashani Jewell
---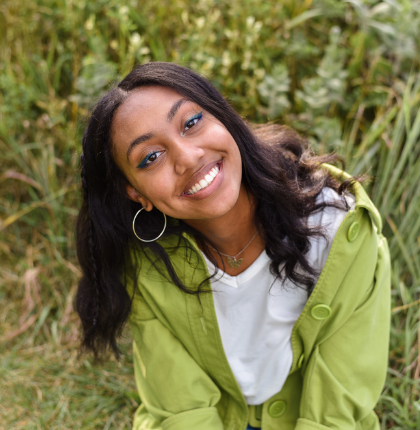 Jade Milton (they/them/theirs) is a Social Justice Leadership Associate at the ACSJL. They are a Freshman at Kalamazoo College, and this is their first year working at Arcus! Jade was born and raised in the Metro-Detroit area, alongside their one older sibling, Dylan. In Jade's free time they love to dance, meditate, spend time in nature, and play Mario kart. Jade's passions lie in spirituality, environmental justice, human rights, and amplifying voices and experiences of marginalized groups. They hope to make an impact on the community of Kalamazoo college, facilitating higher knowledge of social justice issues.
Jade Milton
---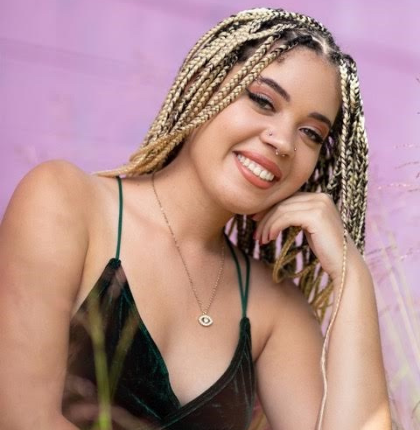 Ellie Pollard (she/her/hers) is a Social Justice Leadership Associate at the ACSJL. She Is a freshman at K, hoping to double major in political science and environmental studies, with a minor in Arabic. Ellie is born and raised in Kalamazoo, so if you want to know some cool places to check out in town, she's your girl! In Ellie's free time she loves to sing, paint, take walks outside, and be silly with her friends. She's a part of Cirque du K on campus and is looking forward to learning more at K and working with the Arcus Center to help bring awareness to social justice issues in her community.
Ellie Pollard
---
Sam Rodriguez
Sam Rodriguez (they/them/theirs) is a senior at Kalamazoo College working on their degree in Critical Ethnic Studies, Spanish, and Studio Arts. At the beginning of their college career, Sam learned about food systems and was a year-long volunteer for the Club Grub program at Woodward Elementary school. As a Sophomore, they were a part of the experiential learning program design team for the food and farming justice pilot program with Amy New Day.
As a student design team member they were able to envision ways in which students could get credit for their experiences in the community through multimedia reflection type assignments. Sam is also a Davis Peace Grant recipient alum and conducted a green space project to install irrigation systems across nine community gardens in the South Bay of California. As a senior and having spent over a year in their hometown, Hawthorne, California, they are eager to engage with the K-College and Kalamazoo Community. Sam is the lead organizer for the queer art collective Radical Love and QTPOCC (Queer, Trans, People, of Color Coalition).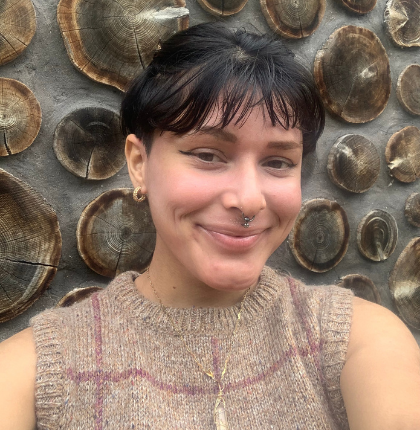 ---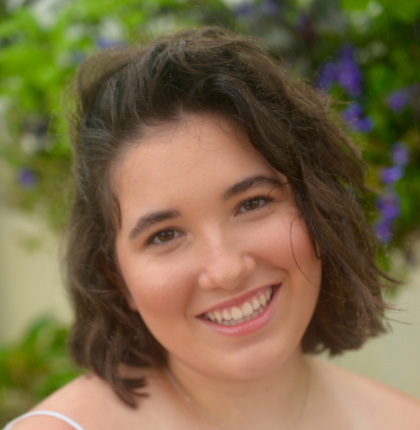 Mica Stillerman-Flores (she/hers) is a Social Justice leadership Associate at ACSJL. She is a Junior and majoring in Critical Ethnic Studies and possibly a Spanish minor. Growing up in Grand Rapids, Mica developed a passion for social justice and music through working with programs like Helen Claytor Center for Girls' Leadership and Girls Rock! Grand Rapids. Mica loves listening to music and is always willing to make a customized playlist for anyone who asks. She loves watching Tim Burton and Studio Ghibli movies with her friends and finding new recipes to try out!
Mica Stillerman-Flores
---
Kaia Thomas
Kaia Thomas (she/her) is a Social Justice Leadership Associate at the ACSJL. She is a junior majoring in Political Science and Psychology. Kaia was raised in Canton, Michigan. In her free time, Kaia loves reading, gardening, cooking, and listening to music. She is passionate about racial justice, anticapitalism, mental health, and environmental justice and sustainability. Kaia wants to continue to learn about the importance of gentleness, accountability, community, and care in social justice work.