"Social justice recognizes the inherent dignity of all people and values every life equally. It calls for both personal reflection and social change to ensure that each of us has the right and the opportunity to thrive in our communities, regardless of our identities. When we acknowledge that oppression exists and work together to end systemic discrimination and structural inequities, we increase the promise of a more just world."
Arcus Center for Social Justice Leadership
The Arcus Center for Social Justice Leadership (ACSJL) is an initiative of Kalamazoo College whose mission is to develop and sustain leaders in human rights and social justice through education and capacity-building.
We envision a campus and world where:
every person's life is equally valued,
the inherent dignity of all people is recognized,
the opportunity to develop one's full potential is available to every person, and
systematic discrimination and structural inequities have been eradicated.
Visit our About page to learn more about us and our goals.
---
Building Hours
Due to COVID-19, the Arcus Center (ACSJL) building has been closed for general use until further notice. While this remains true, the ACSJL is open for requested and scheduled use.
If you have an interest in using our space for a social justice-related project or program, please visit our ACSJL Support page to learn more about the various support opportunities we offer and to reserve the space.
205 Monroe Street, Kalamazoo, MI 49006 (Physical)
1200 Academy St. Kalamazoo, MI 49006 (Mailing)
Parking Information
The parking area directly in front of the front entrance of the building is reserved as accessible parking spaces. Those who do not require accessible parking may park along the West side of Monroe Street (opposite side from ACSJL) and on both sides of Academy Street.
---
Hostile Terrain 94 Art Installation
The Arcus Center is one of 150 global sites installing the Hostile Terrain 94 exhibit. Our main purpose in hosting this installation is to participate in the global memorializing of the thousands who have died at the US/Mexico border as a direct result of the US Border Patrol policy known as "Prevention Through Deterrence" (PTD). Through the process of honoring each person represented in the project we also raise awareness of the realities of the US/Mexico border and the need for more humane immigration and refugee policies.
Here is how you can be part of the exhibit
Para la versión en español, por favor viste la página de arte de Hostile Terrain 94 en español.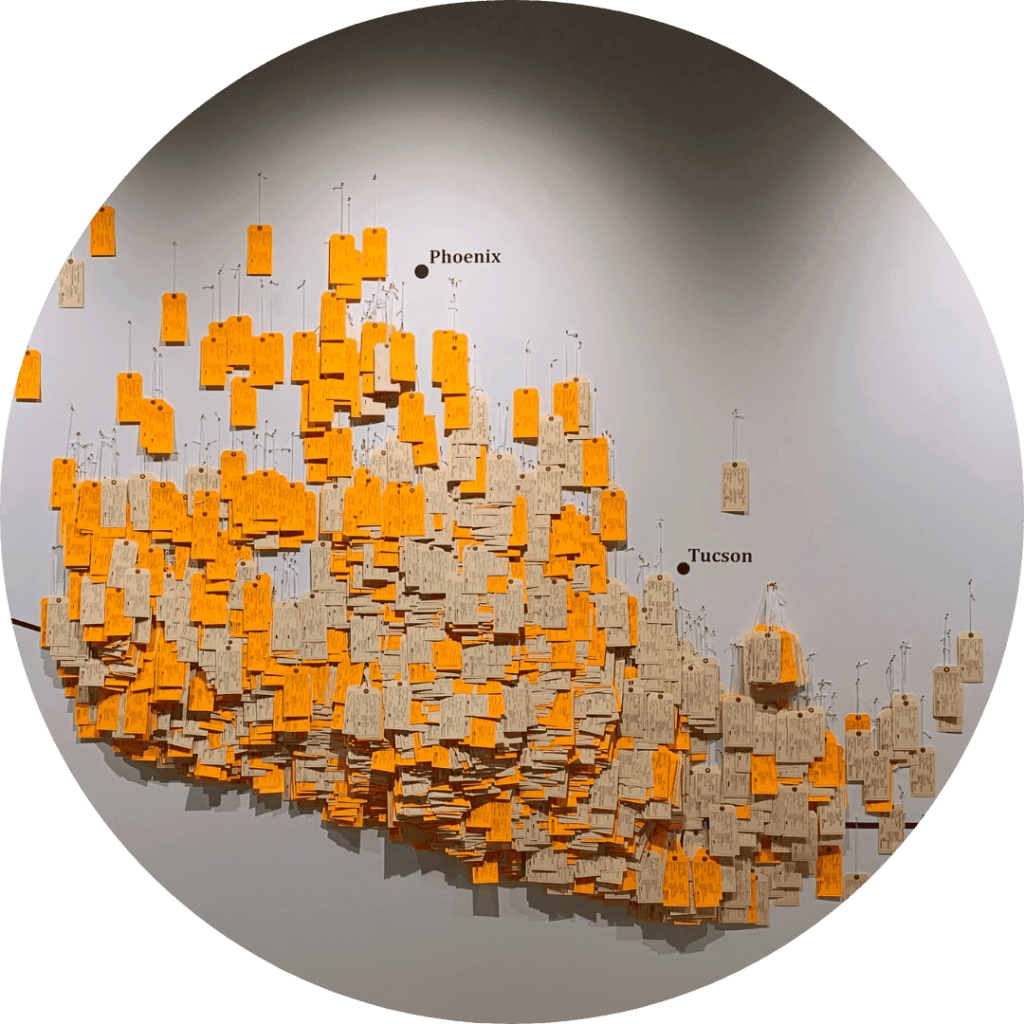 ---
---
For more information about how you can use the space or partner with ACSJL, visit our building page.

If you have any questions, please contact the ACSJL by emailing arcus.center@kzoo.edu or by calling 269.337.7398.