2019
Dr. Richard Lapchick came to K to speak about his work addressing racial equity in sports, the need to eradicate the human trafficking that hovers around sports, and the state of justice and activism in sports today. View the recap video here.
2018
Angela Davis and Charlene Carruthers in Conversation about Black Lives Matter, Then and Now at ACSJL. View the recap video here.
2017
TimeBanking: Building Community through Alternative Currency | June 8th
Want to get to know your neighbors and connect your community? Interested in the sharing economy or alternative currency? Have you heard of TimeBanking, but not quite sure what it is?
TimeBanking is a form of exchanging time where people earn by helping each other and spend by getting help from others. The TimeBanking approach is based on the belief that every member of a community is a valuable resource and each community has the capacity to pool these resources for its own social and economic abundance. TimeBanking is a powerful tool for community building that builds on the strengths, talents, and skills of residents.
Discover how the tool of community skill exchanges can deal with a variety of social challenges including seniors and aging, youth, mental health, community development and regeneration, and more. Join us to learn from award-winning Lathrup Village TimeBank co-coordinator and MI Alliance of TimeBanks founder and Executive Director Kim Hodge. See www.mitimebanks.org for more info.
Real Boy – Indie Lens Pop Up Filim Screening | May 25th
Real Boy is the coming-of-age story of Bennett, a trans teenager with dreams of musical stardom. During the first two years of his gender transition, as Bennett works to repair a strained relationship with his family, he is taken under the wing of his friend and musical hero, celebrated trans folk singer Joe Stevens.
Part of the Indie Lens Pop Up Screening Series.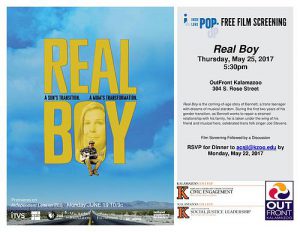 Passion with Purpose: Cultivating Support for Your Project Proposal | May 24th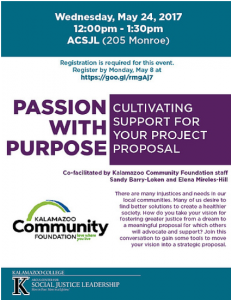 There are many injustices and needs in our local communities. Many of us desire to find better solutions to create a healthier society. How do you take your vision for fostering greater justice from a dream to a meaningful proposal for which others will advocate and support? Join this conversation to gain some tools to move your vision into a strategic proposal.
Co-facilitated by Kalamazoo Community Foundation staff Sandy Barry-Loken and Elena Mireles-Hill. Part of the ACSJL Leadership Training Series.
Social Justice SIP Symposium | May 16th
Seniors whose Senior Individualized Projects have a social justice or anti-oppressive framework will be presenting their SIPs at this Symposium, brought to you by the Center for Civic Engagement and the Arcus Center for Social Justice Leadership. Come see the amazing work seniors have done and celebrate them and their accomplishments! Refreshments will be served.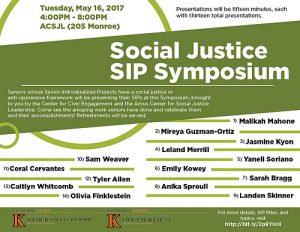 An Intro to Trans, Gender Non-Conforming and Genderqueer Liberation | May 13th
This interactive training provides participants with an introduction to the social construct of gender and sex, the multiplicity of trans identities, and how to work in solidarity. This workshop is designed for non-trans people and includes group discussion, community building exercises, and guest speakers.
Co-facilitated by Sojn Boothroyd and Jen Hsu-Bishop. Part of the ACSJL Leadership Training Series.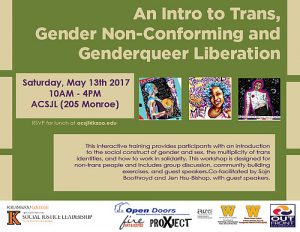 Protest Formation in Latin America & Experiential Activity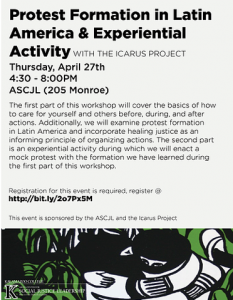 Facilitated by the Icarus Project. The first part of this workshop will cover the basics of how to care for yourself and others before, during, and after actions. Additionally, we will examine protest formation in Latin America and incorporate healing justice as an informing principle of organizing actions. The second part is an experiential activity during which we will enact a mock protest with the formation we have learned during the first part of this workshop.
Street Therapy: Emotional First Aid & Bystander Intervention | April 26th
Facilitated by the Icarus Project. Street Therapy is the emotional caregiving of ourselves and each other in social, community, and public spaces. We define street therapy as promptly meeting our needs and the needs of those near us in community settings. As violence around us escalates, it is imperative that we learn to emotionally show up for others. Bystander Intervention is the second installment in our Street Therapy series of workshops, centering the skills needed to safely intervene on behalf of another, while in a public setting. This 3 hour workshop will cover the basics of how to provide emotional first aid and workshop participants will take away an understanding of what bystander invention is, the various methods of intervention, and post intervention self-care.