Due to COVID-19, the Arcus Center (ACSJL) building has been closed to the public and for general use until further notice. While this remains true, starting April 2021, the ACSJL is open at limited capacity for the Kalamazoo College community to host small in-person programming following all guidelines that the CDC and Kalamazoo College have issued.
---
ACSJL Building Hours
Our building is open for limited capacity use Monday through Friday from 9:00am – 8:00pm. To keep our staff safe and to give enough time for cleaning and thorough sanitation, we will only host one event per week. We will keep an updated list of each week that we have reserved on our COVID-19 ACSJL Building Registration Form page, but please plan to offer a few weeks that would work for your event when filling out a request form in case your first pick has already been reserved.
Guidelines for Using the ACSJL during COVID-19
Before reading our building specific guidelines for in-person use during COVID-19, please visit the college's COVID Dashboard to get the most up-to-date information about the current campus activity level and current COVID-19 numbers. We are only able to reserve ACSJL space while the campus is operating at an orange or yellow level.
Our guidelines are as follows:
20 people or less per event and only one event per week.
All individuals must be masked the entire time they are indoors.
All individuals must maintain 6 feet from all other individuals at all times.
An ACSJL staff member will be in the building during your event, but is not required to leave the office wing at any point. Any event support and needs must be organized beforehand through Facilities Management, Media Services, or the Help Desk.
Catering and use of our kitchen are unavailable while in Orange Phase.
The 4 bathrooms near the East entrance are the only bathrooms available to guests.
Set-up, sanitization, and tear-down are the event organizer's responsibility.
ACSJL Building Capacity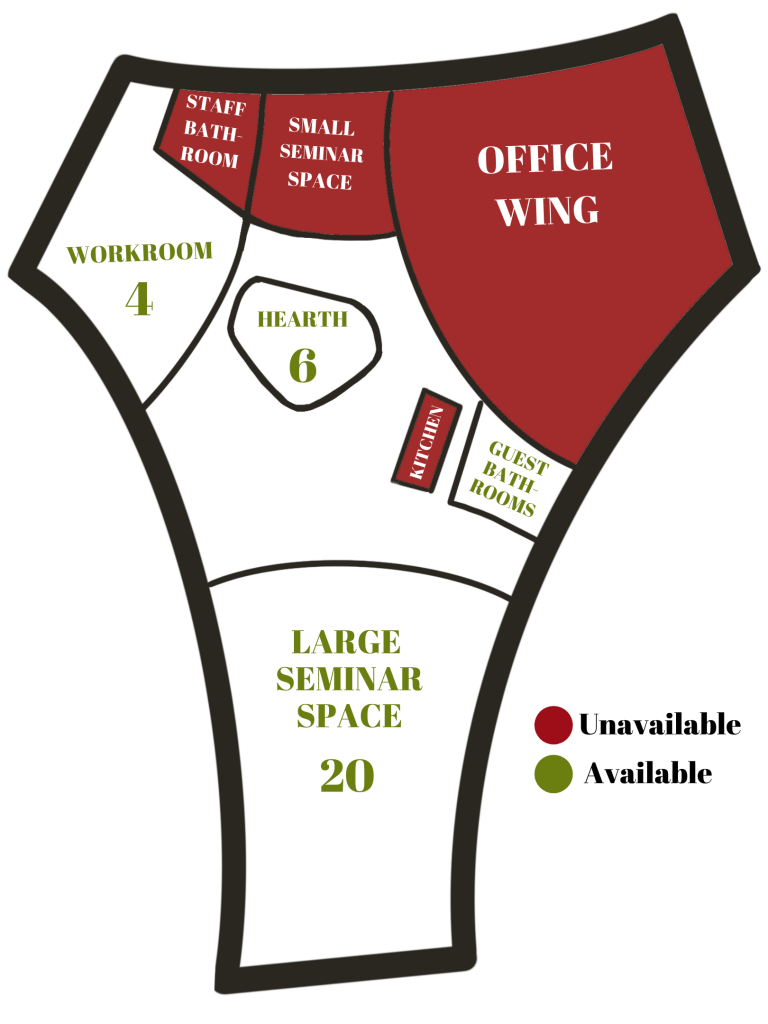 Until it is considered generally safe to go back to full capacity, the ACSJL is only open for events with 20 people or less. This includes all organizers and hosts planning to be present as well as all the participants. Please review the list of each individual section of the ACSJL building's capacity before planning how your event will be set up and reserving the space. If a space has red color blocking on the diagram, it is unavailable for use, spaces open for use are designated in green with their capacity listed alongside.
Hearth: 6
Workroom: 4
Large Seminar: 20
Office Wing: closed
Kitchen Space: closed (water fountain is available for use)
Small Seminar: closed
Outer Vestibules: closed
We understand that the sum of the capacity numbers for the Center's various spaces total over 20. These numbers are to help you set-up and conceptual your usage of the space. The total capacity for any event in the ACSJL while in the Orange Phase is 20 – including all organizers and hosts.
Event Setup and Teardown
Setup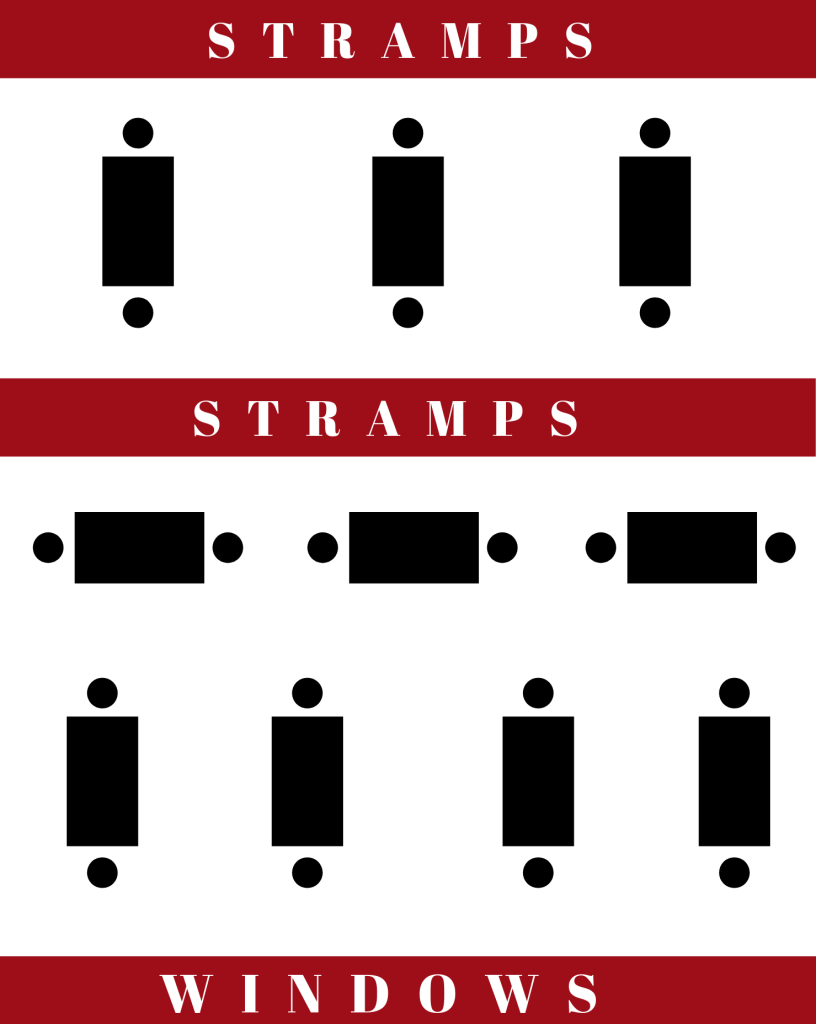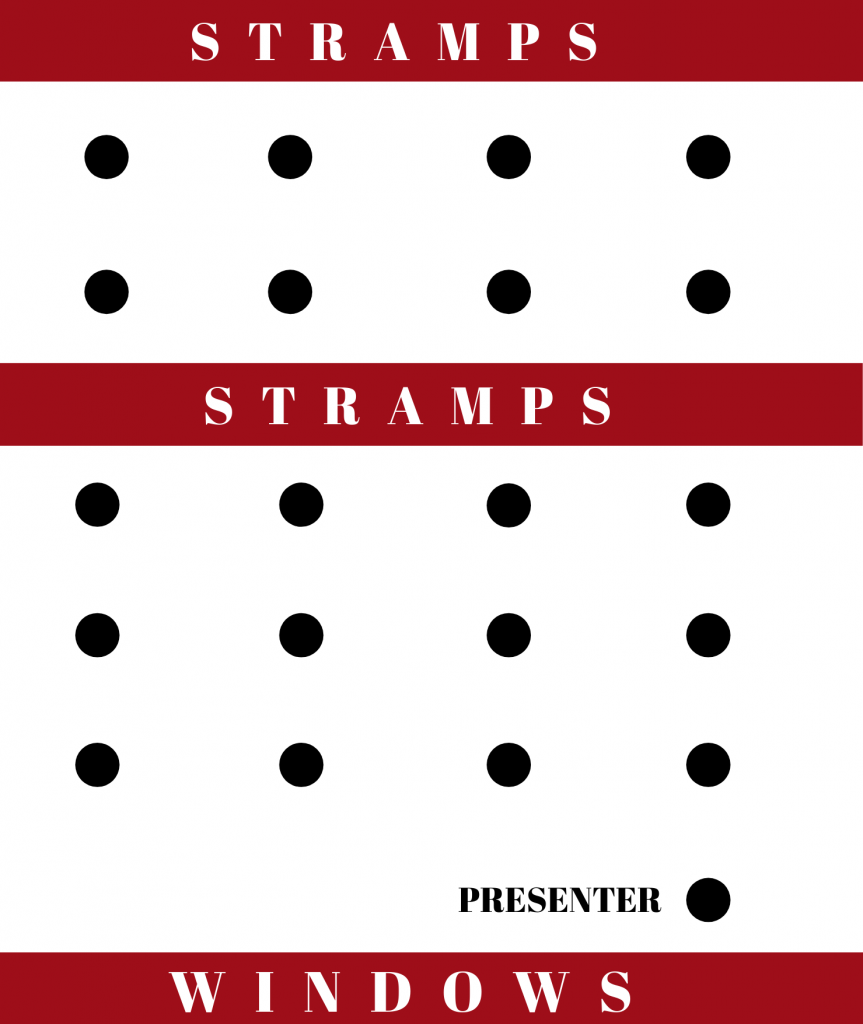 Despite the flexibility and customization ability the space usually offers for events, to remain in compliance with the CDC's COVID-19 Guidelines, the building is only available for use in the following set-ups:
Lecture based seating in Large Seminar space (20)
Workshop based pod seating (2 person per table) in Large Seminar space (20)
Group of 4 around Workroom table
Group of 6 around the Hearth
The diagrams on the right are meant to help you visualize and guide you to what each set up option looks like in the space, but the diagrams were not created in perfect scale. Each table and chair will need to be measured and placed 6 feet from each other during your set up time.
Supplies
Here is a list of supplies available for use in the space:
20 plastic chairs (black)
Up to 10 tables
A standing white board + markers
Projector use + sound system
Two microphones
A lectern
Up to 3 easels
Disposable cups for water
*Any item or piece of furniture not listed here is not for use even if it's still physically in the space.
Event Support
There will be one staff member present for each event. For their safety, they will remain in the office wing for the entirety of the event and use a staff only bathroom if needed. If you need tech support during set-up or during your event, the ACSJL staff member will be available to answer your questions, but for any hands-on needs or more involved support, please call and utilize campus' Media Services, Facilities Management, or the Help Desk.
Teardown
Once your event is finished, you are required to tear down the space and reset it before you leave. This will include sanitizing any provided supplies (chairs, tables, lectern, remotes, mics, markers etc.), and wiping down all used surfaces. Cleaning the bathrooms and emptying any garbage bins will be taken care of by Facilities Management.
Reserving the Space
After reading our guidelines and all other provided information, if you would like to request our space for an event, please fill out our reservation request form. For any questions or clarification, please reach out to our Center Manager, Rhiki Swinton, at rhiki.swinton@kzoo.edu.