Nelly Fuentes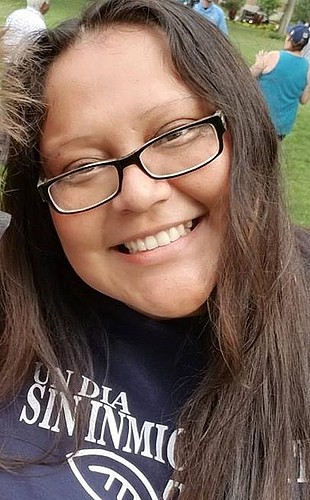 Movimiento Cosecha Kalamazoo

Nelly is a native woman of Mesoamerica who migrated to the Michigan region at the beginning of the century, landing in Kalamazoo in 2006. She believes in the human right to free migration within our native land and is passionate about migrant liberation efforts. She became active in the community last year (2016) with the Kalamazoo County ID initiative, which was subsequently passed in July 2017 and will be implemented in 2018. Since then, she has been organizing around migrant rights and liberation.

The project's goal is to expand Movimiento Cosecha in the Kalamazoo area. Movimiento Cosecha is a decentralized, undocumented-migrant led movement that seeks to gain permanent protection, dignity, and respect for all out-of-status migrants by exercising collective labor and consumer power. The movement has a national reach and has formed hundreds of autonomous circles throughout the nation. This work honors, and draws wisdom from, our ancestors in the farm-worker labor movement by utilizing the power of boycotts, and strikes, as it shifts the narrative to a system sustained by our labor and consumption. In Kalamazoo, we seek to harness this power in order to make a local and national change towards recognition as fully human; deserving of permanent protection, dignity, and respect.
Linda Cypret-Kilbourne & Julie Dye


Institutional Racism: Exposing Native American-themed Sports Team Names and Mascots in Michigan's K-12 Schools

Linda (Zhaawanong NimKii Kwew, Southern Thunder Woman) holds many titles; from Sister to Organizer to Activist. She is a mother of 22 children of an Anishinabe extended family, grandmother of 56 and great-grandmother of 21 with one new spirit coming in June 2018. Linda is a co-founder of MCARSM (Michigan Coalition Against Racism in Sports and Media), a member of the National Coalition Against Racism in Sports and Media, and chairperson of the NASCO Movement (Native American Student Community Organization Movement). In addition, she founded the Healing Water Walk and Land of Falling Waters Traditional Pow Wow (among others).

Julie is a Pokagon Band and Walpole Island First Nation Potawatomi Native American. As anti-racism and environmental activist, she works to improve the lives of Michigan's Indigenous people and the next generation through education. She is a graduate of Southwestern Michigan College and retired from a career in the electric utility industry to advocate full time.

The goal of this project is to provide education and awareness surrounding the misrepresentation of Native names, likenesses and spiritual symbols, and to protect Indigenous children from psychological harm and culture-shaming. Fifty-two of Michigan's primary and secondary educational institutions utilize race-based (Native American-themed) sports team names, symbols, logos, and antics. These public school mascots represent institutional and structural racism through the perpetuation of racial stereotypes, ownership of identity, and "school tradition"; all masked by a claim of honoring Native people. The ultimate goal is to provide an educational atmosphere free of this hostility.
Gina Bravata & Ryan D'Mello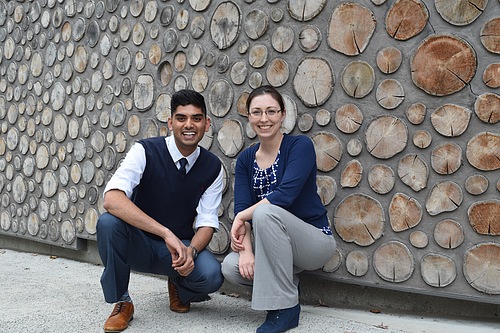 Addressing Race-based Health Inequity through Anti-Racism and Implicit Bias Training for Future Healthcare Providers

Gina was born and raised in Kalamazoo, graduated from Kalamazoo College with a degree in Chemistry and Music, and is a current student at the WMU Homer Stryker MD School of Medicine. Before attending medical school, she was a chemistry teacher in Newark, New Jersey. She is interested in using her background in education and health to promote health equity by increasing discussions regarding the integral link between social justice and medicine.

Ryan was born in Kalamazoo and has lived, worked, researched and volunteered in this community his entire life. As a Heyl Scholar, he attended Kalamazoo College to gain a liberal arts education and earn a Bachelor of Arts in Biology. After graduation, Ryan worked with a team of local health professionals on The Kalamazoo Heart Project, evaluating undetected heart disease in the community. While in medical school at WMU Homer Stryker MD School of Medicine (WMed), Ryan helped found WMed's Social Justice Interest Group. He has strived to promote the important role of social justice in medicine and cultivate student-physician advocates within the medical school. Ryan knows that his role as a future physician extends beyond the classroom and clinic doors. To effectively treat patients he believes that providers must also work at the community, policy, and institutional levels to address social determinants of health, cultural barriers, and implicit bias.

Entering medical school, an oath is taken to advocate for the best interest of all patients. Studies show that structural racism and implicit bias are significant contributors to health inequity. It is essential that all health care providers, especially new providers, are not only competent in the science of medicine, but are also explicitly educated on social determinants of health, implicit bias, and structural racism. This project will focus on 1) facilitating discussions on race and implicit bias for healthcare providers, 2) hosting community events to expand WMed's role as a resource for health equity, 3) collaborating with medical students at the state and national level to update standards for medical school education to include training in racism and implicit bias, 4) to formalize a national network for medical students and faculty to address race-based health inequity, and 5) to host a health equity summit in Kalamazoo to strengthen collaboration within our community.