Jesselyn Leach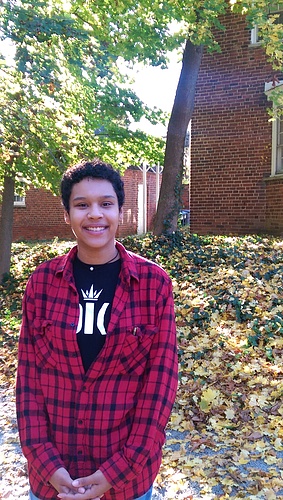 Jesselyn Leach is a Kalamazoo native who feels she has spent too many years claiming the identity that others have placed upon her and works towards claiming her own identity and shaping her own narrative. As of today, she identifies as an artist that works effortlessly to bridge the gap between hardship and triumph. She believes that when a person walks into a room, they bring their whole life with them, and wants to emphasize the importance of being completely human, and allowing ourselves to take an honest look at the past pain that has led us to today. By working within the community through the non-profits, Speak It Forward Inc. and Fire Arts Collaborative, she has strengthened her belief that human connection, and sharing our stories can be one of the most powerful catalysts for growth and healing.

Project Description: #Gang4Change is an initiative based on exploring how art + social justice can work together. This project will work with teens/young people in Kalamazoo and give them the opportunity to connect with their artistic selves. In this platform/program we will use mediums of music, spoken word poetry, slam poetry, cyphering, and other creative methods to break down walls and begin claiming our stories. We then get to explore how owning our identities can play a role in shaping our own personal definitions for social justice. By taking advantage of educational opportunities and incorporating lessons based on justice and social justice movements, we can open the eyes of the young people looking for direction. It is my goal to have a cluster of young people willing to demand justice for initiatives they believe in by next summer.
Maxwell Isaac and Lexington Fate (Team)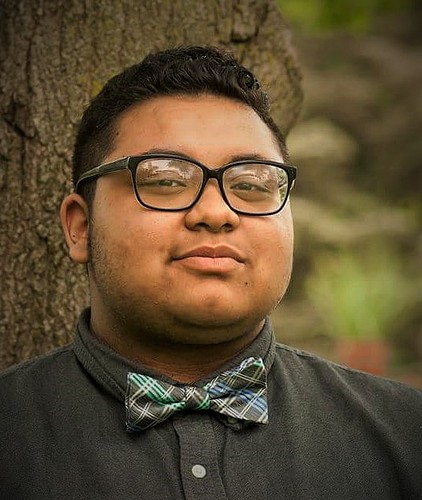 Maxwell T. Isaac is a black, queer and transmasculine identified community organizer who was born and raised in Kalamazoo, MI. Throughout his life, Maxwell has focused the majority of his efforts on racial equity, LGBTQIAP advocacy, stigma reduction, and accessible community building. As one of the lead organizers of Black Lives Kalamazoo, he is currently working alongside his fellow team members to increase the visibility of Black lives but also to cultivate the power of Black identity, industry, and resistance within the Kalamazoo community.

Lexington Everson Fate is a trans, non-binary, queer person of color. Fate uses They/Them/Their pronouns and is an intersectional feminist and social justice worker. Their education has ranged from listening to the talks of their father while just a child, to formal university education where Fate achieved two bachelor's degrees, all the way to community organizing and social justice activism. Fate has completed a 200 hour Heart Centered Yoga teacher training, practices meditation, writes poetry, and creates art with their hands. They collaborate with children in after school programs ranging from ages preschool through 8th grade, covering subject areas like social justice, poetry, yoga, ceramics, and knitting. Fate became an organizer with Black Lives Matter Kalamazoo in July 2016.

Project Description: BlackOut is an initiative designed to lay the foundations of greater visibility and sovereignty for the Black community of Kalamazoo. Although it will be sculpted around the specific needs of the Black community of Kalamazoo, the framework created by Maxwell T. Isaac and Lexington E. Fate will be applicable and flexible so as to be utilized for other community-led and Black-focused programs. The BlackOut initiative is comprised of two major components, the Living Narrative and the Living Action. The goal of the Living Narrative is to increase the visibility of Black stories as told by their authors, sharing their experiences with injustice in Kalamazoo. The goal of the Living Action is to fortify leadership and community ties through community awareness events and trainings.
Kama Tai Mitchell and Lillie Wolff (Team)
Kama Tai Mitchell is a healer, mama, yogi, dancer, and doula. She co-founded Rootead, a non-profit cultural and healing arts organization in Kalamazoo, MI where she currently holds the position of Executive Director. She is a 500hour certified yoga teacher in the Para Yoga tradition, and has completed numerous trainings with master teachers of the African Diasporic culture. She also holds certifications in Zulu Birth Project (doula), reflexology, and massage. She is a strong activist in the areas of birth justice, racial equity, and mental health awareness.

Lillie Wolff is a social justice worker, healer, and artist. She currently serves as a co-Executive Director of ERACCE (Eliminating Racism and Creating/Celebrating Equity) in Kalamazoo, MI, and is a national trainer with Crossroads Antiracism. Lillie earned a BA in Human Development and Social Relations from Kalamazoo College in 2004. She began exploring the healing arts at 14 when she was diagnosed with Alopecia areata, and began practicing yoga in 2003. Lillie is a 500hour certified yoga teacher and is passionate about exploring intentionally antiracist, anti-oppressive, and decolonized yoga teaching, and the relationship between social justice and healing justice.

Project Description: Movement for the Movement is a collaborative healing justice project focused on accessible, antiracist, and critically culturally competent movement and healing arts. This project will examine and address the systemic barriers that impede people with marginalized identities from accessing and benefitting from healing arts spaces and resources. When shared equitably and accountably, healing arts practices, such as yoga, can aid in transforming the harmful and dehumanizing effects of oppression and privilege. We aim to develop and offer ways for people of all backgrounds, including but not limited to those working in the social justice movement, to access anti-oppressive, culturally accountable movement and healing arts experiences.
Remi Harrington

Remi Harrington is a single mother and longtime resident of Kalamazoo. Having been nomadic for the bulk of her life, living internationally and abroad, Remi has chosen to settle in Kalamazoo for the time being to raise her daughter here. Remi has worked independently and collaboratively to successfully implement projects, programs, and initiatives that support individuals and families being sustainable in the midst of the social justice crisis in areas of education and public health. Those projects include the Urban Folk Art Exploratory and Tegany Vegany's Soulbelly Foods, LLC amongst others. Throughout her career, Remi has been purposeful in remaining administratively nondescript and hopes to dismantle damaging schemas that hold us hostage to ineffective leadership.

For more information about Remi and how to get involved with her projects, please check out: Remi Harrington Creative, The Urban Folk Art Exploratory, and Tegany Vegany's Soulbelly Foods, LLC.

Project Description: City schools and BMFA (Balancing Motherhood for the Future of America AKA Babymama's for America) are programs that promote parental engagement and community-integrated education for the purpose of dismantling the cradle to the prison pipeline. By creating spaces in neighborhoods and in our overall community that support academic mastery through industry centered project-based learning, and through aligning our projects with the common core and Kalamazoo Public Schools strategic planning expectations for community, we will create a city-wide culture of high expectations for academic excellence by allowing students to get credit for school by building up their own neighborhoods. Not only will these intercultural spaces support academic mastery, they will also develop transferable skill sets that will seamlessly transfer over into employability and build the infrastructure for a sustainable community.
Chris Wahmhoff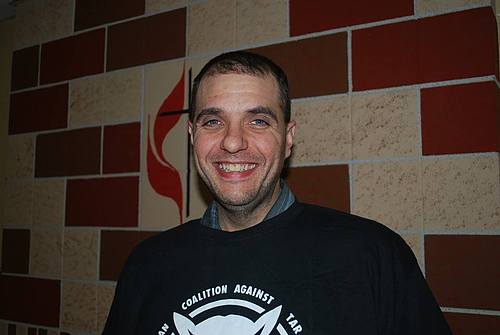 Chris Wahmhoff is from Plainwell, Michigan and lives in the Edison neighborhood. He has worked in mental health for over 15 years, and also is an active member of the Environmental concerns committee of Kalamazoo City.

Project Description: Edison Ducks in a Row is a project that began in April of 2015 after two ducks were adopted and kids in the neighborhood began to take an interest. After organizing an initial board of Chris and Alexandrea (residents of the home of the program) along with a high school senior named Temetrian Hegler, we agreed to start teaching kids in Edison about ducks via two broad focuses on therapy and education. Our first goal was to simply create space for children in our neighborhood to escape the everyday intensity that exists here. Then we began to explore how to write programs to educate kids and young adults in the neighborhood to learn about farm animals and basic urban farming techniques. We made a five-year goal to begin a public school transition to local farming in the Edison neighborhood, by looking at the reuse of vacant lots and career incubation as vehicles of change. We looked to open the program in the spring of 2016. However, on Jan 6th, Temetrian was murdered and ten days later Alex also died. In April, TJ Owens (a 15-year old also responsible for making the program, and who initially pleaded for the ducks to be saved) also died from health complications. Organizations like First Baptist Church, several local members of the community, kids from the neighborhood, and students from K College were instrumental in keeping the electricity running and caring for the birds in 2016. Despite all of these losses, over the summer, several children a day from Edison would come to feed the ducks and/or play basketball at the house. Several began to name the ducks, helping to care for them, or just sitting by one. This fall Chris (the surviving member) applied to the Arcus Regional Fellowship to keep this program going and to reach the goals we had intended as a table of people from the neighborhood who cared.